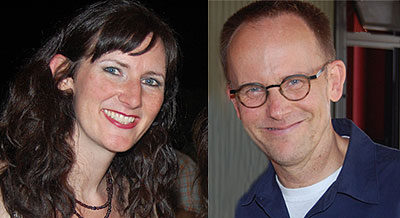 Conductor Craig Hella Johnson is stepping down as Artistic Director of the Victoria Bach Festival effective September 1, 2015, and assuming the role of Conductor Emeritus. Pianist Michelle Schumann, VBF Chamber Music Director, will serve as interim Artistic Director for the 2015-2016 season.
"It's been an extraordinary honor and great joy to have served as the Festival's artistic director for the past 23 years," Johnson said. "Victoria is a special place for making music, and I look forward to returning in a Conductor Emeritus role."
Johnson is making the transition for personal and professional reasons but will leave the Artistic Director role in good hands with Schumann at the helm. Schumann has served as the VBF's Chamber Music Director since 2008, working with Johnson to program and lead the Festival.
Schumann is artistic director of the Austin Chamber Music Center, where she has won awards from the Austin Critics Table for Best Chamber Music Performance, Best Instrumentalist and Best Body of Work/Season. She was named among the Top Five Leaders in the Arts in the Austin Under 40 Awards and received first prize in the 2006 Janice Hodges Competition.
"I was thrilled when Craig first asked me to work with him on the Festival years ago, and I'm excited to move forward with the plans we've made," Schumann said. "We'll certainly find ways to keep Craig involved in future VBF productions."
The VBF Board of Directors has formed a hiring committee to oversee the transition.
Nina Di Leo, VBF Executive Director, said it had been a privilege to work with Johnson for the past 10 years. "Craig is a wonderfully creative, collaborative person. He draws people to him and has developed an extraordinary ensemble of Festival musicians, including Michelle Schumann, who will continue VBF's 40-year tradition of excellence in musical performance."
During his tenure, Johnson started the Festival's New Young Artists program, which has brought more than 50 talented young artists to Victoria and is currently led by pianist Faith DeBow. Johnson led numerous collaborations with Grammy®-nominated choral ensemble Conspirare, including large-scale orchestral and choral productions, and attracted all-star musicians from across the country to Victoria.
"There is a tremendous fondness for Craig in Victoria," said Paula Cobler, president of the VBF Board of Directors. "We will continue to follow his career and look forward to welcoming back to the Festival in the future."
Johnson will conduct numerous performances at the 2015 Festival, including the Great Big Choruses concert on June 6 featuring favorite choral pieces from the baroque era to Broadway. He will lead a "Big Sing" participatory concert on June 10, with the audience serving as choir. Johnson's final performance at the 2015 Festival will be conducting the VBF Orchestra and members of Conspirare's Symphonic Choir in Bach's Magnificat and Brandenburg concerto no. 5 on June 13.