Craig Hella Johnson, Artistic Director of the Victoria Bach Festival and Founding Artistic Director of Conspirare, is the 2015 recipient of the Michael Korn Founders Award from Chorus America.
The award will be presented at Chorus America's 2015 Conference in Boston, June 17 to 20.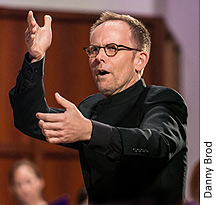 "I am aware of Michael Korn's profound legacy and achievement in the field of choral music," said Johnson.  "I am also aware of the extraordinary individuals who have received this award.  I am so deeply humbled and moved to be honored by my colleagues at Chorus America in this way."
Chorus America established the honorary citation in 1978 to honor an individual with a lifetime of significant contributions to the professional choral art. Michael Korn, one of the founders of Chorus America and its first President (1977 to 1985), received the citation in 1986. Korn was artistic director and conductor of The Philadelphia Singers, which he founded in 1972, and the associate conductor and chorus master of the Opera Company of Philadelphia. In 1991, in response to Korn's untimely death at age 44, the citation was renamed The Michael Korn Founders Award for Development of the Professional Choral Art.
The officers of the Chorus America Board of Directors, including the chairman, treasurer, secretary and either the immediate past chairman or the chairman-elect, select the annual recipient. Nominations are solicited from the Chorus America membership.
Chorus America is the advocacy, research and leadership development organization that advances the choral field. The organization supports and serves choral conductors, administrators, board members and singers with tools, training, peer networking and access so that choruses are better able to contribute to their communities.
The honor puts Johnson in the company of past recipientsof the Michael Korn Founders Award, including such choral luminaries as Margaret Hillis of the Chicago Symphony Chorus, Dale Warland of the Dale Warland Singers, Robert Shaw of the Robert Shaw Chorale and Joseph Jennings of Chanticleer.
Heartfelt congratulations to Craig on this recognition of his contributions to choral music!
www.chorusamerica.org/awards/michael-korn-founders-award-development-professional-choral-art